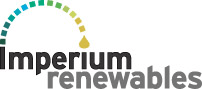 A biodiesel plant that will add 30 percent to the U.S. biodiesel production capacity when it opens will start doing just that when the Imperium Renewables plant at Gray's Harbor in Washington state starts production on Wednesday.
This article in the Kitsap Sun says the 100-million-gallon-a-year refinery will make biodiesel from canola and soy oils, as well as other crops:
"Obviously we think it's the wave of the future," said Martin Tobias, CEO of Seattle-based Imperium Renewables. "We are adding roughly 30 percent to the United States capacity in one fell swoop."
Last year, national biodiesel production was 250 million gallons, more than triple the production just the year before, according to the Missouri-based National Biodiesel Board. By the end of the year, that number is expected to climb to between 300 million and 350 million gallons.
The refinery has been much-anticipated by the local area that has been suffering the last couple of years when a Weyerhaeuser sawmill closed and nearly 100 people lost their jobs.
We at Domestic Fuel have been anticipating the opening of the plant for sometime as well. A quick search of our posts shows at least a dozen stories we've done this year on the progress on the West Coast behemoth of a biodiesel refinery.