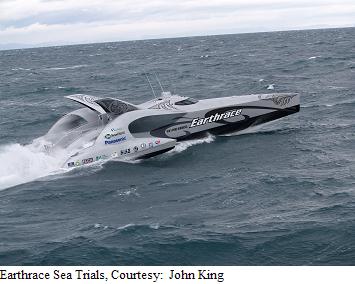 At the end of May, the Earthrace… a biodiesel-powered speed boat… had to abandon its record-breaking attempt to circumnavigate the globe. At the time, they were down… but not out!
Captain Peter Bethune says he should be ready for another attempt next March. This story posted on Grainnet.com says, this time, they'll be better prepared:
The 78-foot boat is currently on a tour of European ports where it is attending boat shows and sailing festivals.
Bethune, a retired oil industry executive, e-mailed BioFuels Journal from Sweden that the first attempt failed due to "under-sourced logistics and not enough spare parts."
For example, Bethune said, "The biodiesel we were to use in India was made from a low quality fish oil. It arrived three days after our boat docked in Cochin. We ended up losing four days there.
"If we do a second attempt, we will ensure we get someone there a month in advance to determine the fuel quality, and to have it waiting on the dock."
To set the record, the Earthrace will have to cover 24,000 miles of the ocean in 75 days.
You can read more about the Earthrace by visiting its web site: www.earthrace.net.