Production has started at Iowa's 13th biodiesel plant… this one, a Western Dubuque Biodiesel, LLC, plant near Farley.
It will produce 30 million gallons of biodiesel a year, bringing Iowa's annual biodiesel production up to 258 million gallons… according to this article posted on Grainnet.com: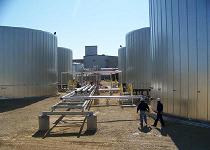 Western Dubuque Biodiesel, LLC, will produce fuel from soybeans or other vegetable oils at the new plant, which will be beneficial to area soybean farmers, says Ray Gaesser, (Iowa Soybean Association) president and a soybean farmer near Corning, Iowa.
"It's exciting to see how far the biodiesel industry has come since soybean farmers began funding its early development in 1992," says Gaesser.
Iowa is the largest soybean-producing state in the nation and grows about 500 million bushels per year.
The plant was built by Ralston, Iowa-based Renewable Energy Group.