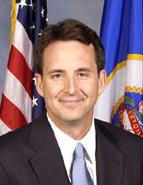 Minnesota Governor Tim Pawlenty has announced a new initiative to move his state from using two percent to 20 percent biodiesel by 2015.
The announcement comes on the heels of yesterday's word he wants Minnesota to use 20 percent ethanol by 2012 (see Chuck's post from August 8th). According to HometownSource.com, Pawlenty will bring the proposal before the state legislature next year:
"Minnesota has led the nation in unleashing a renewable energy revolution," Governor Pawlenty said. "Other states are starting to catch on and it's time for us to continue to blaze the trail to a cleaner, more secure energy future. Increasing the level of biodiesel in diesel fuel means that more of our energy will come from farm fields rather than oil fields and that's a good thing."
The percentage would be phased in over the next seven years, and Pawlenty would also include the requirement that all the biodiesel sold in the state would be BQ9000 certified.