A proposed 65-turbine wind farm in Central Washington State has been given the green light for construction… again.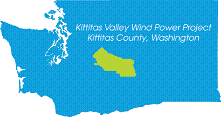 The Kittitas Valley Wind Power Project got a recommendation from the Washington State Energy Facility Site Evaluation Council for the goveror to OK the project in March. But Governor Christine Gregoire asked the council to consider the feelings of some neighbors in the area who are opposed to the idea. According to this article in the Bellingham (WA) Herald, the council approved the project once again:
The council recommended on Tuesday that the governor approve a modified permit, which could increase the distance between turbines and the homes of landowners who aren't participating in the project.
The permit modification provides that the developer will give "highest priority" to increasing the distance of the turbines from landowners, even beyond a minimum setback of four times the turbines' height.
The council retains final approval authority of the final turbine siting.
Gov. Gregoire has 60 days to approve or disapprove the project. The wind farm is being proposed by Horizon Wind Energy.