Ohio has been laying a big, fat goose egg when it came to ethanol production, but that could all change soon… in a big way.
The Buckeye State has been lagging behind many of its Midwestern neighbors in the number of ethanol plants, such as Indiana and Illinois with 10 plants each, producing 1.1 billion gallons of ethanol for the two states. And other big ethanol producers Iowa, Minnesota, and Nebraska boast more than a dozen plants each. But this story in the Cincinnati Post says things are going to swing the other way for the ethanol importer Ohio:
Up to five plants should begin producing the corn-based fuel next year, said Jamie Gentry, agribusiness liaison with the Ohio Department of Development.
"We should go from zero gallons produced to 394 million almost over night," Gentry said.
Five plants are under construction in Allen, Coshocton, Darke, Fayette and Putnam counties. They are expected to create about 330 jobs. A sixth plant is under consideration in Harrison County.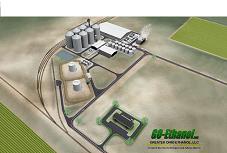 A potential big producer of Ohio ethanol is Greater Ohio Ethanol, LLC (see its proposed plant picture on the left), which received $85.5 million in state incentives to get going. It's part of $450 million in government loans and state-backed incentives to get the industry off the ground in Ohio.
The ethanol plants are also getting some help from federal and state environmental regulators which eased some pollution limits while the refineries get started.