Royal Caribbean Cruise Lines has agreed to buy 15 million gallons of biodiesel this year… and another 18 million gallons a year for the next four years… to run some of its cruise ships from Seattle-based biodiesel giant Imperium Renewables.
This story in the Seattle Times says Royal Caribbean has four ships based out of the Pacific Northwest port: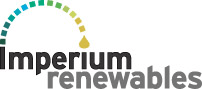 "We believe this is the single-largest long-term biodiesel sales contract to an end user in the U.S.," the company said in a filing with the Securities and Exchange Commission.
Imperium also said it had reached an agreement to purchase Royal Caribbean Cruises' 7 percent stake in the Grays Harbor facility.
As you might remember, Imperium is set to open a 100-million-gallon-a-year biodiesel plant soon at Grays Harbor, Washington… the largest of its kind in the country.