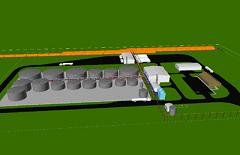 Indiana Clean Energy, LLC is getting ready to break ground on a $90 million, 80-million-gallon-per-year biodiesel plant in the next couple of months (see the artist's rendering).
The project is the first biodiesel plant for the Frankfort, IN-based company and comes nearly two years after the company was founded. This story on the WTHR-TV web site says it came down to location, location, location:
The site was chosen because it is close to ADM and it has good access to railroad transportation and utilities. ADM will serve as the plant's primary supplier.
Gingrich said the company is open to forming working relationships with other area growers.
"Farmers are glad to see projects like this coming along," he said.
The company will hire Clinton County residents during and after construction for a variety of positions in sales, administration and line production when operations begin, Gingrich said.
The groundbreaking will mark more than a year of permit issues Indiana Clean Energy went through to get to this point.