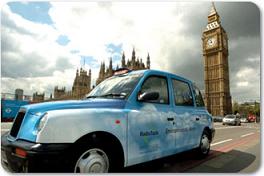 Some of London's famous black cabs will be going green. About 3,000 of the Radio Taxis Limited cabs will be running on a 30 percent blend of biodiesel.
This story on Biofuel Review says the biodiesel will reduce CO2 by 7 percent, significantly reduce oxides of nitrogen and carbon monoxide, and drop particulates by 4.7 percent. It does all this and delivers a nearly 10 percent improvement in mileage. It all adds up to a fleet-wide reduction of CO2 by nearly 3,000 tonnes:
Ken Livingstone, Mayor of London, said: "London already has the best taxi service in the world, and I am working with the taxi trade to make it the cleanest. New regulations introduced this year, mean that the capital's 20,000 black cabs must now meet strict emissions standards, making vehicles less polluting to help improve London's air quality.