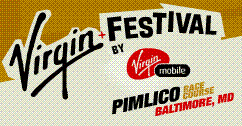 The second annual Virgin Festival sponsored by Virgin Mobile will try to be as environmentally conscious as possible during the two-day concert, August 4-5th at Pimlico Race Course in Baltimore, Maryland.
Organizers of the event featuring bands such as The Police, Smashing Pumpkins, and Amy Winehouse are encouraging festival attendees to "green it like they mean it." This press release details some of the plans, including, of course, biodiesel and solar power:
— Clean energy: Where possible, clean energy such as biodiesel and solar power is being used. All on-site power, generators and light towers will run on B99 biodiesel [B99 is 99% biodiesel, 1% diesel; the 1% diesel eliminates a tax on the fuel].
— Green power for plug-ins: Recharging stations for mobile phones and other devices will be powered by biodiesel energy.
The festival will also be featuring earth-friendly food packaging and recycling. Attendees will be able to purchase "carbon credits" to offset any unavoidable use of carbon-based fuels.