A congressional committee has added an amendment to the Energy Bill that would require U.S. Government gas pumps to offer E85 ethanol.
This release from the National Ethanol Vehicle Coalition says Michigan Democrat Representative Bart Stupak's measure would direct federal agencies to install pumps for renewable fuels like E85 at their fleet fueling centers:
"I was pleased the Committee accepted my amendment to expand the availability of E85 and renewable fuel pumps at federal government refueling stations," Stupak said. "The federal government is the largest energy consumer in our nation and needs to lead by example. By mandating the expansion of renewable fuel pumps at federal refueling stations, we can ensure federal agencies increase their renewable fuel use and help America move away from its dependence on foreign oil."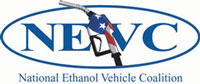 Phillip Lampert, the Executive Director of the National Ethanol Vehicle Coalition, praised Congressman Stupak for offering the amendment. "We thank Congressman Stupak for his efforts, insight and acknowledgment of the need to move the federal government's fleet of vehicles onto E85 and other renewable fuels," Lampert said. "Bart Stupak has long been a leader on energy issues, and we thank him for offering this bi-partisan amendment."
You can read all of Stupak's amendment by clicking here.