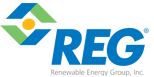 Iowa-based Renewable Energy Group has broken ground on what will be a 60-million-gallon-a-year biodiesel plant in Emporia, Kansas.
This story is from the Emporia Gazette:
Actual construction work will begin in about two weeks, according to Chief Executive Officer Jeff Stroburg. The company expects to have the $70 million plant up and running by September or October of 2008. Once completed, it will be capable of making 60 million gallons of biodiesel fuel a year, using soybean oil supplied by Bunge.
"You can name just about any state in the union and biodiesel from this plant will probably find its way there eventually," Stroburg told an audience of around 60 people at the ceremony.
This is the second announcement in two weeks for REG, as company officials said last week they were starting construction of another 60 MGY plant near New Orleans.