South Dakota-based ethanol producer POET is adding another plant to its list of 20 active ethanol refineries and seven more under construction.
According to this release on the company's web site, the latest one will be near North Manchester, Indiana… about 40 miles west of Fort Wayne. POET will hold a groundbreaking on July 13th at 1:30 PM in the Otho Winger Memorial Building at Manchester College: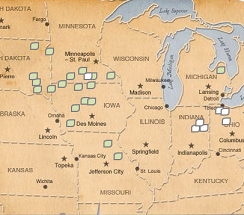 At 65 million gallons of ethanol per year (MGPY), POET Biorefining – North Manchester will consume 21 million bushels of locally grown corn and produce 178,000 tons of premium Dakota Gold Enhanced Nutrition Distillers Products™. Ethanol marketing for the facility will be provided by POET Ethanol Products and byproducts will be marketed by POET Nutrition. The facility will utilize Norfolk Southern rail service.
North Manchester will be the third site in the state of Indiana where POET has an ethanol plant under construction. A facility in Portland will be completed later this year and one in Alexandria will begin operations early next year. Cumulatively, the three projects represent an investment of more than $350 million in Indiana and will produce 190 MGPY.
WHAT: POET Biorefining – North Manchester, IN ethanol plant groundbreaking
WHERE: To start, Otho Winger Memorial Building at Manchester College, with shuttles to the groundbreaking site.
WHEN: July 13th, 1:30 PM