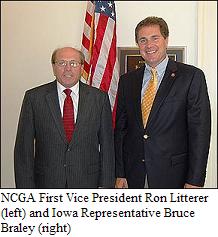 Lawmakers on Capitol Hill have heard more testimony in favor of a bill that would help educate the ethanol workforce. National Corn Growers Association (NCGA) First Vice President Ron Litterer told a House Small Business Committee that the ethanol industry requires a continued commitment in providing a well trained workforce.
A news release posted on the NCGA web site says a proposal currently before Congress would do just that:
Litterer said the proposed National Endowment for Workforce Education in Renewables and Agriculture (NEW ERA) Act of 2007would help expand the nation's capacity to identify and track the new jobs and skills associated with the renewable energy sector. Introduced by Rep. Bruce Braley (D-Iowa), the legislation would also help address skill shortages that are already beginning to affect the expansion of renewable energy facilities through the development and support of national and state skill training programs.
"Ethanol and other bioenergy technologies will continue to play a significant role in reducing our dependence on foreign oil, building up hundreds of rural economies, and creating thousands of new job opportunities across this country," he said. "In my home state of Iowa there are 28 ethanol plants with more than 1.7 billion gallons of annual capacity; these plants have created more than 27,200 jobs across Iowa, stimulating the local economies and invigorating rural development across the state."
The bill would give competitive grants, authorized by the Secretary of Agriculture, to community colleges for classes and training for technicians in the bioenergy fields as well as other ag-based, renewable energy sources such as cellulosic.
You can hear an NCGA story with Litterer by clicking here.
You can read Litterer's testimony to Congress by clicking here.