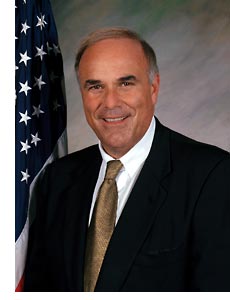 Pennsylvania Governor Ed Rendell was at the dedication of a new wind farm… the seventh one in the state.
According to this press release posted on Rendell's web site, the Locust Ridge project in Schuylkill County is part of the state's aggressive push for wind power:
At present, the state's wind farms generate enough electricity to serve about 45,000 homes, or less than 1% of the Pennsylvania market. But the state expects another four wind farms to begin operating within the next year, more than doubling capacity.
"This is an exciting day for Pennsylvania," said Governor Rendell while standing atop Locust Ridge in Schuylkill County. "This project shows the kind of growth we can achieve by committing ourselves to clean and renewable energy, and by making the strategic investments necessary to attract leading companies that create quality jobs for our men and women."

Iberdrola, the largest owner and operator of renewable energy facilities in the world, owns the wind farm.