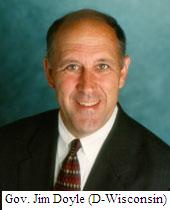 Wisconsin Governor Jim Doyle is calling on Republicans in his state's legislature to back his plan to spend $30 million on renewable energy.
TV station WKBT in La Crosse posted this AP story on its web site and said Doyle made the call in front of a biodiesel plant in De Forest:
Doyle is still smarting from Republicans on the budget-writing committee removing his proposal to spend $30 million over the next two years to pay for grants and loans to further develop renewable energy resources.
He says energy policy should not be partisan. But he accuses Republicans of lacking foresight on the issue.
Republicans on the budget committee objected to Doyle's proposal to take the money out of the state's recycling fund to pay for it.