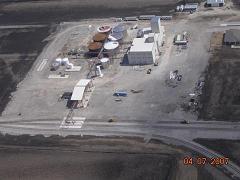 Aptly named Freedom Fuels, LLC has opened a new biodiesel plant near Mason City, Iowa (see picture from the Freedom Fuels web site on the right).
This story on Grainnet.com says Freedom Fuels will produce about 30 million gallons of biodiesel a year:
"From the very first batch, the biodiesel exceeded specifications for quality," said Brian Stork of Core Ventures Renewable Fuels and the General Manager of the plant.
"We are proud of our team and the efforts they have taken to ensure the investors a quality product from the first batch.
"Since the plant started, all of the biodiesel that has been produced has met specifications."
This brings the number of biodiesel refineries in Iowa to 11 producing 200 million gallons a year. Three more capable of producing 120 million gallons are under construction. Iowa also has 28 ethanol refineries putting out nearly 1.9 billion gallons annually with another 19 ethanol plants under construction or expansion that will add more than 1.4 billion gallons each year.