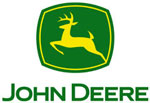 A Michigan utility has inked a 20-year deal to buy renewable energy from John Deere.
According to this story on IndustryWeek.com, Wolverine Power Cooperative will get the power from Harvest Wind Farm, LLC… principally owned by John Deere:
The wind farm, which has been under development for three years, is slated for Huron County, Michigan.
John Deere Wind Energy is planning to begin construction of the 32-turbine project this summer, with commercial operation scheduled for early 2008. Wolverine is purchasing renewable energy from the Harvest Wind Farm project for sale to its six member-companies and their retail customers.