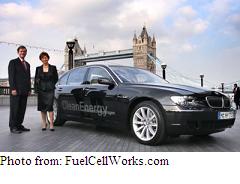 A BMW Hydrogen 7 car… which, of course, runs on hydrogen with its only exhaust being water… was given to Deputy Mayor of London and London Hydrogen Partnership Chair, Nicky Gavron, to raise awareness to what a great alternative energy source hydrogen is.
This article (and the picture shown above) are from a web site called Fuel Cell Works.com. The story says it's part of BMW's initiative to promote the role of hydrogen in the economy. UK business leaders and opinion leaders will get similar vehicles to evaluate their performances:
(BMW's Head of Government and Industrial Affairs,) John Hollis said: "BMW is a pioneer in the development and use of hydrogen as a fuel source and shares the vision of the Mayor and Deputy Mayor that London should be one of the world centres for Hydrogen. In recognition of the work the Mayor's Office has done in this field, BMW would like it to be the first public organisation in the country to have the use of a Hydrogen 7 car."
Deputy London Mayor, Nicky Gavron, said: "I am committed to improving the health and quality of life of Londoners through the use of cleaner technologies such as hydrogen vehicles which reduce harmful emissions into the atmosphere. I am pleased to have this opportunity to try out the BMW Hydrogen 7 car. As the Chair of the London Hydrogen Partnership, I want to encourage the use of hydrogen vehicles that emit only water vapour and no harmful emissions, but I also want to be able to talk with first hand experience about these vehicles. I am pleased that BMW has given me this opportunity."
The BMW Hydrogen 7 has a 260 hp, 12-cylinder engine under the hood and accelerates from zero to 62mph in 9.5 seconds. The only thing holding this modern muscle car back is the electronic governor that limits it to a 143-mph top speed.