The U.S. Senate is considering a bill this week that would continue to promote investment in traditional ethanol production while also pushing investments in research, technology and infrastructure for cellulosic ethanol production.
This article on Grainnet.com says the bill has the backing of the Renewable Fuels Association: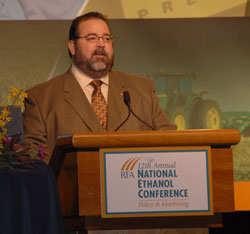 "Record-high gas prices, continued unrest in oil-producing regions of the world and the fragility of America's oil refining complex underscore the necessity of developing renewable alternatives to fossil fuel," said Renewable Fuels Association President Bob Dinneen.
"This bipartisan bill strikes an appropriate balance to continue the momentum spurred by the 2005 energy bill while providing the necessary incentives to bring next generation ethanol technology to the commercial market."
Dinneen continued, "This bill is to cellulosic ethanol what the 2005 energy bill was to grain ethanol.
The legislation would have a new renewable fuels standard of 36 billion gallons of renewable fuel each year by 2022, loan guarantees for alternative fuel refineries to include cellulosic ethanol, grants for to build renewable fuel corridors, a study looking at the feasibility of building an ethanol pipeline, and a study on the impacts of using higher than 10 percent ethanol blends.