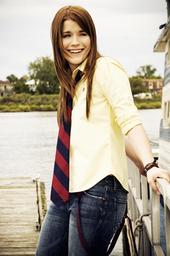 Singer Jenny Owen Youngs, known for her music on the Showtime series Weeds, is incorporating some green (different kind of green in this case) in the van she's using to tour the country.
This article from HARP Magazine features Youngs:
On her current tour, Jenny Owen Youngs will be tooling around in a biodiesel van. She got the idea from touring mate Vienna Teng's "Green Caravan" concept of putting all touring musicians in environmentally friendly rides. "It's all about minimizing [our] impact on the environment," says Youngs. She, Teng and Teng's band are also toting their own eating utensils (no disposables), keeping a Brita water purifier onboard (cuttin' down on plastic bottles), and volunteering for Habitat for Humanity on off days.
Check out Youngs and her music on her web site www.jennyowenyoungs.com or on her My Space page.