That's the Biofuels Infrastructure Grant Program that gets federal money to help gas station owners/operators install E-85 and B20 (or higher percentage) pumps to encourage the Earth-friendly fuels.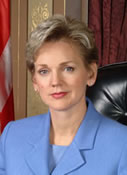 The latest was a station the Quick Sav Food Store in Swartz Creek. That station got about $8,400 to put in the new pumps… one of six stations in Michigan that received about $43,400 in grants to help put in the infrastructure that will get ethanol and biodiesel into the hands (or more accurately, into the tanks) of drivers – check out this press release posted on Gov. Jennifer Granholm's web site.
It's not a huge amount of money… it's not a huge amount of fuel affected, but just think if each station across the country was able to offer customers the choice of using biofuels. Most people in the U.S. say they would use more ethanol and biodiesel… if it were more readily available.
For details on the BIG Program, click on this website.