A race car running on ethanol is winning races and setting some records on the drag racing circuit. Stephanie Eggums, the lady behind the wheel of Eggums Racing's NHRA SC car posted news of her wins on the news section of her MySpace page:
Next was the NDRA MIR event May 19 – 20th, where we had to finish the finals from Atco and the weather forecast was calling for rain both days. After two rounds of qualifying on Saturday, I was in the #1 spot with an 8.06 and facing Jamie Farrer for the Atco final.
Launching with our best 60′ of the season, a 1.30, as well as running our first 7 second pass (7.99 @ 183mph), we took the win and reset the NDRA Pro4 ET & MPH records!
Recently, Cindy e-mailed her to ask about her use of ethanol in her drag racer. Here's Eggums' response: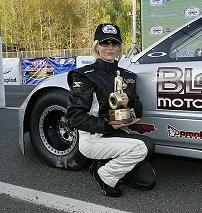 Cindy,
We started using Ethanol (E98) back in 2005. My car had been burned down while I was racing for a different team (idiot tuner / crew chief who also didn't put a fire suppression system in my car). After the fire I went back on my own, hired a new crew chief (Jeromie Hicks) and my new engine tuner was and still is Harry Hruska, owner of Precision Turbo.
At the time of the fire the car was running on Methanol and Harry suggested just using Ethanol. We found a place not too far from my home in Elgin, IL to purchase a drum (Pearl City Elevator).
We raced the car in 2005 for the remainder of the season, finishing 2nd in points and a fastest ET of 8.41 @ 178. We made plenty of power and ran all nine races on a single motor, which was pretty unheardof for anyone to do that in any class.
For the 2006 season, we decided to continue running the E98 and after running the entire season, again we finished 2nd in points, but also became the first FWD Honda in the world to run a 7 second pass. We reset the ET & MPH Records for the NHRA Hot Rod class and were the only car to run a 7 second pass in 2006 in Hot Rod. Again, we only used one motor all season long.
Mind you, it's a combination of an excellent engine tuner, a well built motor and a competant crew chief that sets the car up right so we don't break parts. All along that was our goal, to run fast, consistant and not break parts. We couldn't afford to, since the last two years of racing Pro has been paid out of pocket, no sponsors.
So the Ethanol proved to make plenty of power for us, required less maintenance in comparison to Methanol and wasn't as brutal on the motor.
We were looking forward to this year and starting off winning, however two motors and two months of racing determined the drum of E98 we purchased in February was contaminated. Not only that but it started off as E95, Not E98 and we were not told of the change.
With the new drum of E98 we recently got, we should be back on track for this coming race at Atco, June 9 – 10th.
Check out Eggums on the NHRA web site or on her MySpace page.