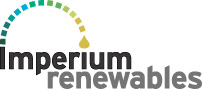 Biodiesel giant Imperium Renewable and algae-to-oil producer Solazyme, Inc. have reached a deal that will have Solazyme producing oil from microbes it developed and providing the oil to Imperium to make into biodiesel.
From a company press release:

Harrison Dillon, Solazyme's Chief Executive Officer commented: "Imperium has publicly expressed interest in the opportunity for algal derived biodiesel for some time and we are pleased to work with them to make this a reality. This agreement not only demonstrates Imperium's vision to seek out new and innovative sources of biodiesel feedstock but it also provides validation of demand for alternative sources of biodiesel feedstock as well as for our technology. Imperium's talented team and excellent technology made them an obvious choice to work with."
Company officials say algae-producing biodiesel is set to be a big grower in the feedstock arena. You might remember that Imperium is set to open one of the biggest biodiesel plants in the country near Seattle.