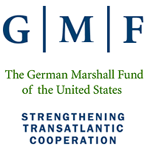 Several American journalists are touring Europe, courtesy of the German Marshall Fund of the United States, a program that promotes cooperation between the United States and Europe on domestic and international trade policies.
From this post on FarmPolicy.com, Missy Shelton Belote of KSMU-FM, Springfield, Missouri's public radio station; Todd Gleason, from the University of Illinois and WILL AM-580 public radio; Dan Morgan, a Special Correspondent with The Washington Post and a Transatlantic Fellow with the German Marshall Fund; and Keith Good of FarmPolicy.com are getting a perspective on Europe's farm policy, sometimes where the rubber meets the road, and, of course, biofuels.
Ursula Soyez, a Program Officer with the German Marshall Fund of the United States, talked with some her guests about their views after seeing biofuels operations in The Netherlands (click here for the podcast):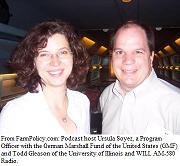 After seeing the bioethanol plant, Gleason took note of its smaller size compared to its American counterparts, "The plant produced about 35 million liters (10 million gallons) of fuel-grade ethanol. (In the U.S.), A 10-million gallon ethanol plant could not maintain any efficiency, but they also don't have the input." He added how surprised he was how efficient that small of operation could be.
Morgan noted there are some other differences between the European markets and the U.S. "In Europe ethanol is rather a small player. The big player is diesel." He says that makes biodiesel the big push in Europe.
Once again, click here to hear more from that particular podcast.