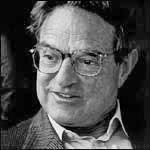 Billionaire investor George Soros is warning that U.S. and European tariffs on Brazilian ethanol might keep that country from reaching its potential in alternative fuel production.
According to this story posted on Bloomberg.com, Soros, who is a major investor in Brazil's ethanol industry, needs bigger markets to justify the expansion and building of new distilleries there:
"Unless the markets in the rest of the world are opened up, you probably have overproduction coming online," Soros told reporters today in Sao Paulo, where he was attending an ethanol seminar. "You've got prohibitive tariffs both in the U.S. and Europe."
Ethanol investment in Brazil has soared in recent years as gasoline prices rose to records and demand increased for alternative fuels in the U.S., Europe and Asia. The U.S., which makes ethanol from corn, imposes an import tariff of 54 cents a gallon on Brazilian supplies. The European Union has a 19-cent levy.
The tariffs discourage Brazilian mills from exporting the record ethanol output this year, Soros said.
Of course, American ethanol and corn producers point out this country doesn't need to switch from one foreign import, oil, to another one, Brazilian ethanol.
But it's not just American opposition that is stalling the Brazilians:
Environmental rules will prevent Brazil from reaching a potential 10-fold increase in output, said Soros, who became the main shareholder last year in Adeco Agropecuaria Brasil Ltda., a Brazilian sugar and ethanol producer.
Brazil's currency also is overvalued and interest rates are too high, discouraging investments, he said.
Soros does go on to point out that anti-American Venezuelan President Hugo Chavez is also banking on Brazilian and American ethanol production falling flat… keeping the U.S. dependant on Venezuela's oil.