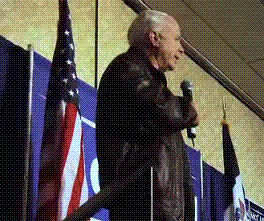 Republican presidential contender Sen. John McCain of Arizona seems to be changing his views on ethanol. This United Press International story explains the switch seems to come down to two words: Iowa caucus.
During the 2000 presidential campaign, Sen. John McCain, R-Ariz., skipped the Iowa caucuses, perhaps sensing that, among other things, his opposition to ethanol subsidies would not go over well in a corn-growing state like Iowa.
Seven years later, he is crisscrossing the country again to win support for his bid to become the Republican presidential nominee, and this time his route includes stops in Iowa.
McCain's rhetoric about ethanol has changed, which might assuage some Iowans, but he says his opposition to subsidies for ethanol and other agricultural products remains the same.
"We need to increase our use of ethanol and all kinds of alternative fuels," McCain said at a speech in May.
But McCain stops short of endorsing subsidies… sort of:
Jerry Taylor, an analyst at the libertarian Cato Institute in Washington, says McCain's newfound interest in ethanol is catering to a special-interest group — Iowa farmers — who might help him win that state's pivotal caucus.
"The old John McCain opposed ethanol subsidies. The new John McCain will apparently embrace any idea to win the White House," Taylor wrote on Cato's weblog.
The article points out that in a speech in Virginia in April McCain said that while he would encourage the growth of ethanol infrastructure, he still won't sign off on government subsidies.