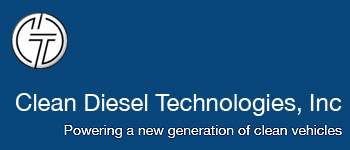 Clean energy innovator Clean Diesel Technologies, Inc has struck a deal with Stuttgart, Germany-based Bosch GmbH, a leading global supplier in the areas of automotive and industrial technology, customer goods and building technology, to allow Bosch access to key patents developed by Clean Diesel for selective catalytic reduction (SCR).

Dr. Walter Copan, Executive Vice President and Chief Technology Officer of Clean Diesel (you might remember my May 24th interview with him) says SCR is the preferred method of reducing oxides of nitrogen (NOX). He says Bosch applying Clean Diesel's ideas to their motor supplies will mean a low-cost method of fixing biofuels problems with NOX.
"The unfortunate downside of biodiesel has been seen in some of the older engines (with biodiesel increasing the formations of NOX)," said Copan. "With the NOX control technology, such as SCR, there's full compatibility with a high-quality biodiesel or biomass liquid fuels."
Copan adds this new technology will mean more engines will be able to run more efficiently and cleanly.
"The SCR technology is very fuel flexible. Ultimately the goal is to have a system that is robust, that provides overall good fuel efficiency, and delivers the kind of environmental performance with a view to overall sustainability in the years to come."
You can hear more of my interview with Dr. Copan below. More information about Clean Diesel Technologies is available at www.cdti.com.

[audio:http://www.zimmcomm.biz/audio/CopanBoschIntvw.mp3]