Most of the time, I tell you about the big biodiesel plants that are helping shed this country of its dependance on foreign oil. Those operations that crank out millions of gallons a year are great and make a BIG difference. But sometimes its nice to report on the little guys who are making a difference in their own right.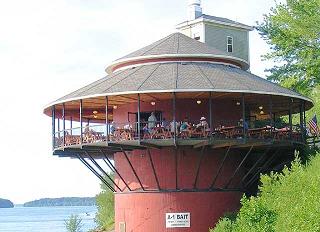 Case in point, this story from the Buffalo (NY) News. The owner of a Lewiston, NY restaurant (The Silo pictured on the right) is brewing up his own biodiesel in his own garage… using his own restaurant's leftover cooking oil. He says he got the idea while living in France last winter:
"I met someone who was making [biodiesel fuel] in five-gallon buckets," said Alan Hastings, who owns the restaurant on the Niagara River. "I couldn't believe it. The guy was going around to restaurants and begging for their used cooking oil. I got excited about it."
Hastings said he started learning the process in France, where he also purchased a Fiat with a diesel engine.
Hastings said he came back, eager to use the cooking oil from his restaurant in the biodiesel process, and soon began saving on both gasoline and the added cost of paying somebody to haul away his used fryer oil.
He said he was definitely motivated by economics — with the cost to produce the biodiesel fuel at about 50 cents per gallon. He said his Volkswagen gets about 50 miles per gallon using the biodiesel fuel.
Hastings does take some precautions, such as keeping the flammable methanol used in the process in a separate building.
Hopefully, he won't run afoul of the law like some home brewers in Wisconsin ran into. You might remember my post from March 25th, 2007 when I told you about Steven Griesbach and Paul Simon who got in trouble for not paying road taxes on their home-brewed biodiesel. Of course, this came at the same time the state of Wisconsin was giving money away to encourage some big producers to produce biodiesel.