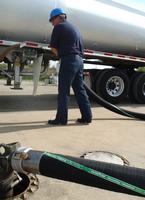 The alternative fuel industry is getting a new product to help it move its products.
According to a release on the Goodyear web site, the tire giant is producing a hose that will carry a greater variety of biodiesel and ethanol products:
Goodyear Flexwing VersaFuel transfer hose meets the needs of expanding alternative fuel markets and conventional fuel markets.
Unveiled today at the annual NAHAD hose distributor convention, VersaFuel is used in tank truck and plant operations to transfer diesel, gasoline, oil, biodiesel and ethanol blends, as well as petroleum-based products with up to 60 percent aromatic content.
It gives Goodyear Authorized Distributors the flexibility to service existing and new fuel markets with one product, according to Keith Collett, marketing manager for Goodyear's industrial hose business. "VersaFuel helps simplify product selection, lower distributor inventory costs, and meet the needs of emerging fuel markets," he said.
Company officials say the new VersaFuel hose solves the problem of the biofuels rotting away the rubber. Plus, its helix wire design keeps the hose from collapsing, making it good in vacuum situations. And they say it dissipates static build-up making it safer to deal with. It even works well in temps from -30 to 180 degrees Fahrenheit.