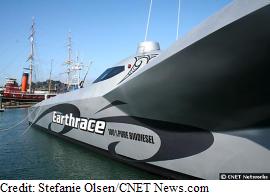 "The reports of my death have been greatly exaggerated" is a famous Mark Twain quote, but it might apply to The Earthrace, a biodiesel boat trying to set a 'round-the-world record.
Back on April 29th, I reported on a C/Net story that quoted the captain as saying breaking the record would be impossible. A few days ago, we received this comment from David Perez, doing his best Monty Python basically saying "I'm not dead YET!":
Hello World,
Just wanted to let everyone know that the world record attempt is absolutely, positively not abandoned. We have an official restart/finish line in San Diego, CA and are currently en route to Salalah, Oman doing good time.
Please visit our website for updates on the race and thanks for your continued support … we here at Earthrace believe failure is not an option and with your help, we are determined to fight our way to a victorious end !
Cheers,
David Perez
Earthrace Ground Crew
Race Leg Sponsorship
This story on C/Net.com seems to confirm Perez's claim:
The group set sail from Barbados on March 10 with a goal of getting around the world in less than 75 days. Unfortunately, a series of snags in Central America slowed it down. Engine problems grounded it in Palau last month. The record became impossible to achieve.
Captain Peter Bethune, however, isn't giving up. Instead, he's re-starting the voyage, and taking San Diego as its starting and finishing point.
There could be questions, however, if the world record folks will accept the new start date and finish location.
You can follow their progress at Earthrace.net.