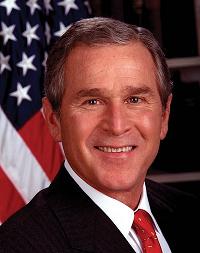 Producers of ethanol and biodiesel aren't sure they can meet President Bush's goal of 35 billion gallons of renewable or alternative fuels produced a year by 2017. Currently, just under a billion gallons a year of biodiesel and about six billion gallons of ethanol is produced. The American Agriculturalist web site says the debate came during an industry event last week in Houston:
A Bush administration official Friday defended the viability of the president's goals, but the discussion at the Houston event underscores the magnitude of the challenge facing the U.S. as it struggles to feed its growing energy needs in an increasingly carbon-limited world.
"I've yet to meet anyone who thinks more than half could be from ethanol and biodiesel," Pearce Hammond, an analyst at Simmons & Co. International, says of the targets. He says total production of ethanol and biodiesel could reach 17.5 million gallons by 2017. Hammond says there could be other solutions to the conundrum, such as coal-to-liquids technology or the use of natural gas as a transportation fuel.
But Hammond, who emceed some of the sessions Friday, also warned that U.S. gasoline demand is forecast to grow by some 35 million gallons a day over the next decade.
"It just touches on how big the challenge is to penetrate and change the fueling habits," he says.
Speaking with reporters after a luncheon address, Paul Dickerson, an Energy Department official, says the administration's goal is realistic. He pointed to other fuels under development, as well as to leading-edge technologies being funded chiefly by private-venture capital.
"We're more bullish on the output than some of the folks here," says Dickerson, the chief operating officer for the department's Office of Energy Efficiency and Renewable Energy.
Conference attendees say the biggest obstacle will be enough feedstocks to make all this fuel possible.