The National Biodiesel Board is expanding its presence in the nation's capital. According to a press release on the NBB web site, the board is making its Washington, D.C. a full-service bureau with the addition of some key staff to work on legislative and regulatory issues: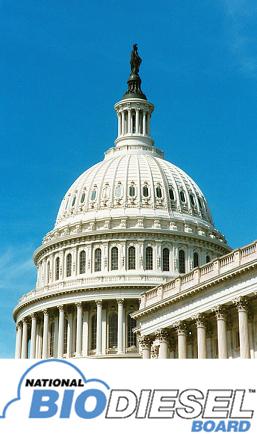 Manning Feraci has accepted the position of Vice President of Federal Affairs and will direct the NBB's Washington office. Feraci most recently served as the Chief of Staff to Congressman Kenny Hulshof (R-MO), who has been one of the primary champions of biodiesel in the U.S. House of Representatives. Feraci has more than 14 years of experience working for members of the U.S. House Ways and Means Committee, which has jurisdiction over tax and trade matters.
The NBB is also pleased to welcome Larry Schafer of Diamond Group, LLC, to its legislative and regulatory team as Senior Adviser. Schafer previously served as Vice President for both the Renewable Fuels Association and the National Council of Farmer Cooperatives, and performed various legal and legislative counsel roles for Congressman Earl Pomeroy (D-ND). He has significant expertise and background on policy matters relating to renewable fuels, and was instrumental in crafting and implementing both the Renewable Fuels Standard (RFS) and the Volumetric Ethanol Excise Tax Credit (VEETC).
Tom Hance, Janet Kopenhaver, and John Gordley of Gordley Associates will round out the legislative team working on biodiesel provisions in the 2007 Farm Bill. Tim Urban and Tara Bradshaw of Washington Council Ernst and Young, will specialize in tax and trade issues. Karen Edwards of KCE Public Affairs will provides public affairs and media relations support in Washington. Andrew Brandt will serves as a policy support analyst.
Meanwhile, NBB Director of Governmental Affairs Scott Hughes will move out of the DC office to the board's headquarters in Missouri, where he will provide a greater focus on the organization's state regulatory issues.