The National Biodiesel Board today called on Congress to put pro-biodiesel provisions in the new Farm Bill, including a Biodiesel Incentive Program and Biodiesel Fuel Education Program. According to an NBB release, making the case for the board and the American Soybean Association in front of the Senate Agriculture Committee was Neil Rich, president and CEO of Riksch BioFuels of Crawfordsville, Iowa: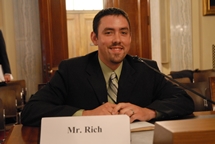 "The construction of our biodiesel facility is the direct result of the successful programs from the 2002 Farm Bill," said Rich of the plant that created 14 high-quality jobs in Southeastern Iowa to allow it to produce 10 million gallons of cleaner burning biodiesel annually. "Biodiesel should be a significant part of the 2007 Farm Bill."
The program would be similar to the Commodity Credit Corporation Bioenergy Program… already working well in expanding biodiesel the industry the last few years. The federal Ag Department would use commodities to reimburse biodiesel producers.
NBB officials say the energy portion of the 2002 Farm Bill has encouraged greatly expanded biodiesel production. USDA analysis says that every 50 million gallons of biodiesel raises soybean prices one percent. In the long-term, experts say the increased demand for biodiesel will increase average soybean prices nearly 10 percent by 2015. They also point out that extra money in farmers' pockets will mean that much less in farm program payments.