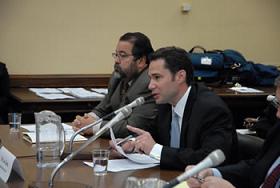 Members of the National Biodiesel Board have testified before Congress about how biodiesel has benefitted America. According to an NBB press release, the board's Chief Executive Officer Joe Jobe testified before the U.S. House of Representatives Committee on Small Business in a hearing entitled "The Impact of Renewable Energy Production in Rural America."
"If you take one thing away from my testimony today, I hope it is that biodiesel delivers," Jobe said. "The biodiesel tax credit is a shining star in the universe of public policy."
To prove his point, Jobe presented a survey that shows how supportive the American public is of the tax credits lawmakers have granted the industry:
Results of our recent survey of American consumers show that almost half (46%) are aware of biodiesel, while just 16% are aware of renewable diesel. This may partially explain why a very large majority (77%) believe the tax credit for biodiesel is a good decision but, after a series of questions, just 17% believe big oil companies should receive similar taxpayer support for a product called renewable diesel, even if it helps lead to energy independence.
Jobe also told representatives that the biodiesel industry produced just 25 million gallons a year in 2004. Today, after the biodiesel incentive has boosted the industry, there are 105 plants capable of producing 864 million gallons of biodiesel. In addition, biodiesel has added at least 40,000 new jobs and will add $24 billion to the U.S. economy. Farmers are also enjoying the benefits of the credit. Soybean prices have gone up $.42 a bushel since the incentive took effect.
Jobe urged lawmakers to extend the biodiesel incentive past its 2008 expiration date while cutting off big oil from abusing the credit.