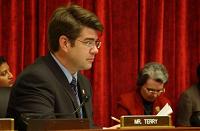 Nebraska Congressman Lee Terry is calling on his fellow lawmakers to approve a package that would promote hydrogen as a viable alternative to fossil fuels.
According to this story in the Omaha World-Herald, Terry testified on Capitol Hill that his hometown zoo, Omaha's Henry Doorly Zoo, is making good use of hydrogen:
Hydrogen fuel cell technology provides power and heats water at the jungle, Rep. Lee Terry, R-Neb., said Tuesday at a congressional hearing.
The zoo's hydrogen fuel cell is part of a pilot project by the Omaha Public Power District that started in 2001. The utility wants to learn from the experience and is looking at more widespread uses of the devices.
The article goes on to say that Terry wants the federal government do more to promote hydrogen fuel cell technology that produces power through a chemical process without the dangerous waste and emissions produced by nuclear reactions.
Terry's proposal would extend existing tax credits for the purchase of hydrogen fuel cell equipment and would create new tax credits for using it.
The new tax credits would cover 30 percent of the cost of producing hydrogen, up to $1,500 a year. The measure also would push for the use of the technology in new federal buildings.
Tery adds the tax credits could be what gets the technology really going in this country.