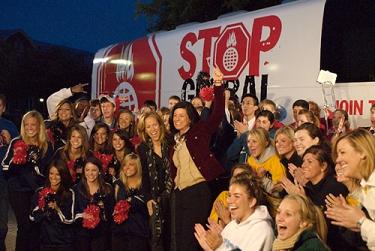 Singer Sheryl Crow and environmentalist Laurie David (in the center of the picture above) wrapped up their nationwide tour in a biodiesel bus at a stop in Washington, DC today, Earth Day. The Washington Post featured some posts from Crow's and David's blogs along the way on the Stop Global Warming College Tour:
David (4/10, Dallas): I am jogging outside in 40 degree freezing cold . . . 70 degrees in January and 40 degrees in April. That is exactly why Sheryl Crow and I are in a biodiesel bus going thru the Southeast visiting college campuses to talk about the urgency of this issue and how everyone . . . everyone . . . has to start doing something. I would write more, but I have to go run warm water over my hands and thaw out from my run.
The actual blog posts are a little tough to find but this web site StopGlobalWarming.org is a good start.