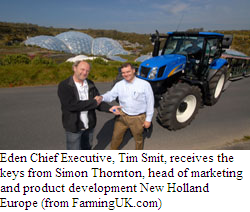 Four New Holland tractors are the first tractors that run on 100% biodiesel to arrive in the United Kingdom to work at Cornwall's Eden Project, "an environmentally-focused attraction all about man's relationship with plants and the environment."
According to this story in the Farmers Guardian, not only will the tractors be good for the environment, they'll be good for the local economy:
The four New Holland machines will emit 70 per cent less carbon dioxide than the ones they replace. They will also cut carbon monoxide emissions by half, particulates by 70 per cent and hydrocarbons by 40 per cent.
The hope is the 20 litres of fuel each tractor requires daily will be supplied by local oilseed rape growers.
Eden's Gus Grand said: "The environmental benefits of the tractors are not solely due to the fuel. The engines are more efficient than our old ones. With these new tractors we are trying to drive people's interest in green motoring forward. If we can do it, so can others."
The article goes on to say if this test is successful, expansion of the idea could be part of what helps the UK achieve its 5% Renewable Transport Fuel Obligation by 2010.