Ground-breaking is planned for this summer for a new 60-million-gallon-a-year at Emporia, Kansas. According to this story in the Lawrence (KS) Journal-World, Iowa-based Renewable Energy Group will build the refinery with hopes of opening in just more than a year: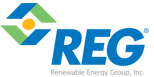 Company president Nile Ramsbottom said the company looked at Emporia because of its location and an ongoing partnership with soybean processor Bunge North America.
"They have a large soybean processing facility there, so they're a natural supplier of soybean oil to us," Ramsbottom said. "And (Emporia) is in a site where there's animal fats available from the feedyards."
REG officials say the plant will produce little or no noise or odor promising to be good neighbors. The company already has a 12-million-gallon-a-year plant at Ralston, Iowa.