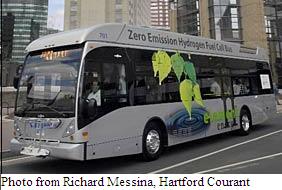 A new, hydrogen-powered bus has hit the streets of Hartford, Connecticut as a test of the technology that emits nothing but water vapor.
The Hartford (CT) Courant reports the 30-passenger bus will be checked for fuel economy, maintenance costs and reliability and compared to three other fuel cell buses in California:
The Greater Hartford Transit District signed a contract with UTC Power, a unit of Hartford-based United Technologies Corp., to build the bus last year.
Vicki Shotland, executive director of the transit district, said UTC Power will also provide two years of program support, including the use of Connecticut's only hydrogen refueling station at UTC's headquarters.
"The people who live and work in Hartford and the people who visit the city are not only going to enjoy riding this quiet bus, but also will like the fact it emits nothing but water vapor, making for cleaner air for all of us to breathe," said Jan van Dokkum, president of UTC Power.
A $2.9 million federal grant helped fund the bus's development.