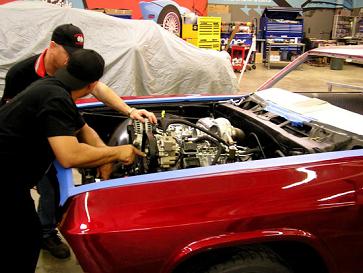 The hit MTV show "Pimp My Ride" will feature a 1965 Chevy Impala coverted to run on biodiesel for its Earth Day show on April 22nd. According to this story posted on CNET News, as part of the show, the converted Impala goes up against a Lamborghini in a quarter-mile drag race. And the Impala wins!

"You don't have to sacrifice the fun aspects of a car. All you have to do is change your fuel," said Martin Tobias, CEO of Imperium Renewables, a biodiesel refiner that developed the Pimp My Ride biodiesel experiment with MTV. "It completely blew away the Lamborghini. It was only two-thirds down the track when the Impala crossed the finish line."
The man behind the conversion is Jonathon Goodwin, a biodiesel conversion specialist and founder of alternative energy start-up SAE Energy. He's also converted about 60 Hummers which increases the SUV's mileage from 10 miles a gallon to nearly 24!