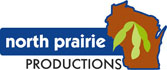 Wisconsin Gov. Jim Doyle and officials with North Prairie Productions, LLC were among those at a groundbreaking ceremony in Evansville for the state's latest biodiesel plant. According to this article posted on the Wisconsin Technology Network web site, when completed, the plant will produce 45 million gallons of biodiesel a year:

"Our state has the ideal resources to be a national model for renewable energy – from agriculture and forestry, to manufacturing and cutting-edge innovation," Doyle said in prepared remarks.
Doyle brought the state's checkbook with him giving NPP $250-thousand in funding. But the bulk of the money to build and run the plant is coming from private investors:

Mike Robinson, president of North Prairie Productions, is delighted with the state's support, but even more grateful to investors. While biofuels have plenty of detractors, Robinson said about 800 investors, all Wisconsin residents, have committed an average of $30,000 to the company as part of an equity drive that will close on April 5.
No single investor has more than a five percent stake. "It really is a broad-based Wisconsin ownership," Robinson said, "and we're proud of that."
Soybeans will be the feedstock for the biodiesel. Construction is expected to continue over the next year.