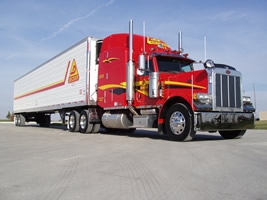 A study by a large over-the-road carrier supports the use of biodiesel.
Iowa-based Decker Truck Line, Inc., with more than 700 semis out on the road and nine terminals in five states, is the first major trucking company to compare a soy biodiesel B20 blend to regular diesel in a comprehensive over-the-road test covering two million miles.
So far, 350,000 miles have been covered, and according to a National Biodiesel Board news release, so good:
"What we've observed so far is great performance in the particularly cold winter we just experienced, and reduced maintenance and engine wear benefits that equal or outweigh the slightly higher cost of the biodiesel blend," [says Dale Decker, Industry & Government Relations Director for Decker Truck Line.]
In fact, Decker says they've observed cleaner engine oil, less engine wear, decreased maintenance, and good performance in cold weather as low as the single digits.
The National Biodiesel Board is happy with the results as well:

"We are pleased that Decker Tuck Line has taken on this project to test biodiesel in real-world conditions," said Tom Verry, Director of Outreach and Development for NBB. "This over-the-road study of biodiesel will help trucking companies and independent truckers gain a better understanding of the effect of biodiesel on their fleet."
Mileage and efficiency results of the study won't be released until after the two million miles is completed.