Just as I finished the last post about the biodiesel essay contest for high school seniors in Minnesota, Bob Moffitt with the American Lung Association of the Upper Midwest let me know there's also an essay contest for younger students in Iowa.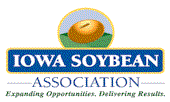 The Iowa Soybean Association and the American Lung Association in Iowa (part of the Upper Midwest division) is offering a biodiesel essay contest for sixth, seventh, and eighth graders:
"The essay contest is open to 6th, 7th, and 8th grade students in Iowa and focuses on how biodiesel affects human and environmental health," said Jessica Zopf, contest manager. "All entries must be at least 200 words long and be received at the American Lung Association office in Des Moines no later than May 1, 2007."
Everyone who submits an essay receives two collectable wristbands from the American Lung Association of Iowa and the Iowa Soybean Association. Three state winners in each grade get a $50 iTunes gift card.
Get your entry forms and information at CleanAirChoice.org… just click on the "Iowa Biodiesel Essay Contest" box. Entries can be mailed to: Jessica Zopf, American Lung Association of Iowa, 5601 Douglas Ave., Des Moines, Iowa 50310.
Good luck!