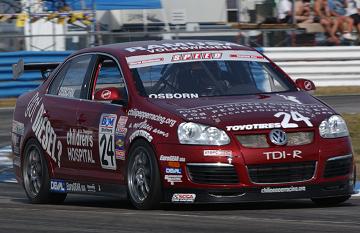 History will be made Friday at the Sebring International Raceway in California when the world's first biodiesel car will join the race. Jim Osborn will be behind the wheel of the number 24, spiced-red Volkswagen Jetta TDI.
The car is racing in the SPEED World Challenge SCCA SPEED Touring Car series:

The SPEED World Challenge is a production-based car series, and Osborn's Jetta isn't much different from those on showroom floors across the country. Osborn hopes his performance at the internationally famous Mobil 1 12 Hours of Sebring event, will inspire consumers everywhere to explore the possibilities of alternative fuels in their own cars.
"We are extremely proud of this project," Osborn said. "Alternative fuels have been getting a lot of media attention lately and to be racing a biodiesel car in SPEED World Challenge is a great way to show the motorsports industry and the world that alternative fuels are ready to be incorporated into our lives. The biodiesel fuel we're using this week is very similar to what's already on the market."
Osborn will race Friday, March 16th at 11:05 a.m. (EDT). The SPEED Channel will show the race Sunday, March 25th at 1:30 p.m. (EDT).
Last week, I talked to Osborn for Domestic Fuel, and you can hear that interview here.