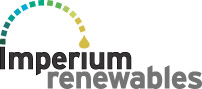 Imperium Renewables has announced it has achieved a BQ-9000 certification for its Seattle-based refineries. According to a company press release, the certification is a measure of fuel quality requiring companies to have approved quality management systems, including storage, sampling, testing, blending, shipping, distribution, and fuel management practices:
"From day one our pledge was to produce biodiesel from vegetable oil that would meet or exceed the quality and performance of petroleum diesel," said John Plaza, Founder and President of Imperium Renewables. "BQ-9000 builds on the work we do to provide ASTM specified products to validate to our customers and distributors that our fuel meets the same quality standards as petroleum diesel. Unlike petroleum diesel, however, our fuel is made 100 percent from renewable energy resources, such as soy and canola oil, and emits up to 78 percent less carbon dioxide. Same quality, just better for our planet."
Imperium has been grabbing some recent headlines, at least on this web site, over the past month or so. Previously we told you how Imperium had set a possible record for investment with $214 million. Its biodiesel has also made its way into the gas pumps at Safeway stores, and the company is about to open a 100-million-gallon-a-year refinery in Washington state… the largest in the country.