You can't enjoy paradise when the skies are filled with smog… that seems to be the idea behind a $61 million biodiesel plant planned in the Hawaiian Islands. The Blue Earth Maui Biodiesel LLC refinery would provide Maui Electric Company with enough biodiesel to run its largest electric plant.
The Honolulu Star Bulletin reports the plant would produce 40 million gallons of biodiesel a year to begin with and would move up to 120 million gallons a year by 2011. It would go to a power plant that produces about 85% of the power for Maui: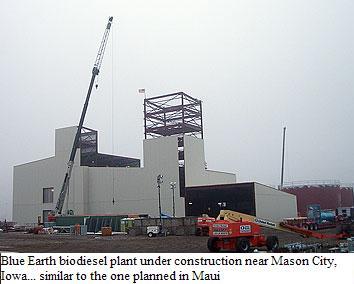 "This is a first step toward allowing Maalaea to generate all of its electricity without fossil fuels," Maui Electric Co. President Ed Reinhardt said.
"At first there may be little or no savings for Maui rate-bearers," Reinhardt said. "We believe that by creating a stable fuel source, we will eventually see a rate change accordingly."
Palm oil as the feedstock would be imported to start, but officials are hopeful local farmers would produce future oils for the refinery.
And another story in the Maui News says Maui Electric Company has already used biodiesel to clear up a problem with too much smoke from a couple of its 12.5-megawatt diesel generators.