Pamplona, Spain is famous for its annual running of the bulls, but the city's buses might become famous for running on eco-friendly biodiesel. Fifty city buses will run on a 100% biodiesel mixture provided by the Spanish company Acciano. Check out this story from Reuters: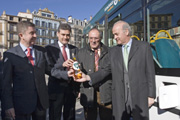 Acciona will deliver 1.5 million liters of fuel a year, produced from vegetable oil at its plant at Caparrosa, also in northern Spain.
Acciona said the city planned to extend biodiesel use to the whole fleet of 127 buses.
"This is the first case in which 100 percent biodiesel is used by public transport in Spain on a large scale," it said.
Pamplona was already using 20-30% biodiesel in about 50 city buses.