John Deere Green might be more than just a highly recognizable color… it could be a way of life for the tractor-making giant. A quick mention on TheHorse.com is directing readers to John Deere's expanded web site on biodiesel and biofuels information: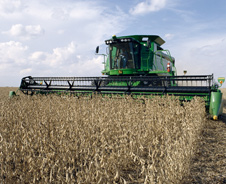 "The biodiesel content on the Web site will help provide farmers and others interested in biofuels with more detailed information on this topic and John Deere's position on how these fuels can most effectively produced and utilized as high-quality energy sources," said Don Borgman, director of agricultural industry relations for John Deere.
Click here for to see a report and video on biofuels from the John Deere web site.
Of course, John Deere was a recent sponsor of Domestic Fuel's coverage of the National Biodiesel Conference.