Carnaval (Mardi Gras) is not the only hot thing in Brazil at this time of year. A U.S. firm is investing $35 million dollars in Brazil's burgeoning biodiesel industry. Check out this story from CattleNetwork.com:
"We are going to build a facility capable of producing 28 million gallons of biodiesel from soy and sunflower oils," said Tyler Bruch, president and chief executive of Global Ag Investments. "We'll have the crushing capacity built on our property so we're not at the mercy of buying oils from the large multinationals. Plus we'll have our own biodiesel plant."
So will it pay off? Well, the article goes on to say that an accounting firm in Rio pegs the return on investment at 40%.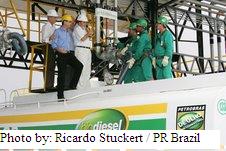 You might remember my post earlier this month where the President of Brazil attended the opening of the country's biggest biodiesel mill. (See photo of the event on the right). And Cindy reported last week about how the U.S. and Brazil are seeking an ethanol partnership. Looks like plenty is afoot in the alternative fuels biz way south of the border.